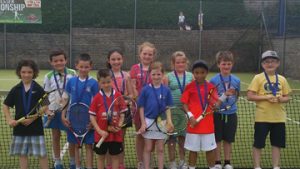 The under 10's summer kicked off at Enniskillen on 1st July as part of the West of Ulster Junior Championships sponsored by Lakeland Veterinary Services. 11 competitors took part, 4 from Enniskillen Tennis Club, 4 from Irvinestown, 2 from Butt Hall in Donegal and 1 from ATT in Ballymena. Kaelan Deery, competing on red court, was in great form. He won all his matches, bar one, by a large margin with his smart tactics and aggressive play. Kaelan's big brother Kyle kept the family success going by winning all his matches! He had a very tight match against the youngster from ATT but he stayed strong and fought his way to the win. Rory Smith displayed his usual style and with his lovely variety of shots he easily won all his matches. Aoibheann King played with energy and focus. She won 2 of her matches and lost 2 but showed some fine form that only got better as the summer progressed!
On the 3rd August all the boys headed off to the Boat Club in Belfast. The sun was shining as they all repeated the results of Enniskillen. Kyle Deery easily won his group stage only dropping 1 game in 3 matches. He comfortably came through his semi final. In the final he used his tactical knowledge to use the entire court and a high first serve percentage to win the match 6-3. With the win came the title of Top Boy and another trophy for his cabinet! Rory played well yet again making easy work of his matches winning all 6! He never seems fazed by the pressure of match play and performed particularly well this tournament. Kaelan also performed to his best winning all his matches despite a couple of close ones. He particularly enjoyed beating the girls!!
On the 10th August all four competed at the Fermanagh Junior Open in Irvinestown. Aoibheann was dominant in her matches due to her solid groundstrokes particularly on the backhand side. Against some stiff opposition Aoibheann received the title of Top Girl and Kyle took Top Boy for the second time this summer. Kaelan lost only to Ace Rodriguez from Butt Hall. There is a great friendly rivalry between these 2 top boys!
Aoibheann joined the boys again at Windsor Tennis Club on August 30th. She won 6 of her 7 matches and the one that she lost was very close, 15-11! All her competitors that day were boys so she was truly tested but performed well. All of the kids played exceptionally well with obvious progression over the summer. Kyle went through to the final, again facing off against the young competitor he played against at the Boat Club final. The result was the same with Kyle finishing Top Boy for the third time this summer and receiving another cup.
Their tennis coach Louise McGann is very proud of the hard work these kids put in to their training. The results they have had this summer reflects the work ethic they have and the enjoyment they play with. "They are great ambassadors for our sport and our club. We look forward to their continued growth and progress. These young tennis players are definitely worth watching."