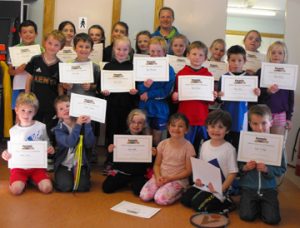 The recent under tens event sponsored by our local Dunnes Stores attracted a super entry of young members from Enniskillen Tennis Club. A total of 21 of our youngest juniors took part in a team event over three hours on a Saturday morning using six courts. With coach Louise McGann's meticulous planning, the event proved to be an outstanding success.
Competitions took place over three age categories, namely under 8s, under 9s and under 10s. Each child played everyone in their respective age group.
Time passes quickly when you are enjoying yourself and keeping busy. The under 8s played seven singles matches each followed by some doubles. Young Carla Smith had a very productive morning and succeeded in winning all her matches. Cormac King, who had only just turned 5yrs of age, performed heroically as did Dylan O'Hagan, Matthew McCreesh and Chloe Smith. Others who gained a lot out of the experience were Nathan Hanna, Conor and Aine Rice. The most important aspect of this competition was the fun these children had taking part. A positive experience at this age can be the deciding factor as to whether a child will give tennis a real shot in the months and years ahead.
The under 9s was a particularly strong group with four of the five children already training in the Under 12 Performance Squad. Once children reach this stage of development, the matches are punctuated by incredibly long rallies and very close games. Currently these children are showing considerable potential for their age and are exiting prospects for the future. Taking part in this group were Kaelan Deery, James Robinson, Patrick Williams and Annabel and Sam Morrison.
The under 10s group was well supported by another eight youngsters. The experienced competitors Aoibheann King and Rory Smyth continued the fine form they showed during the summer. Anna Wilson, Erin and Niamh Byrne, Eve Courtney, Katie O'Hare, and Isla Rowland all contributed in making this a fantastic morning of matches.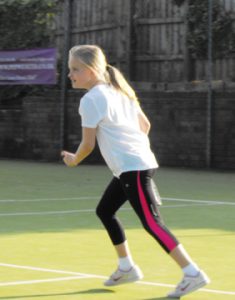 It was encouraging to see so many participating in this year's tournament. It reflects the hard work of the club coaches Matthew and Louise McGann to introduce more children to the sport and then helping them to develop their skills and above all else, ensuring that their experience is a truly positive one. With such a strong thriving junior atmosphere at the club coupled with the regularly attended Friday club nights which are open to all children and not just members, the future of tennis here looks bright. A warm tribute was also paid to many of the older junior members who assisted throughout the morning in umpiring the matches and games and to the parents for their support throughout the year.