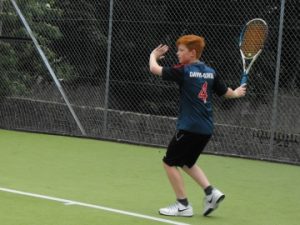 In a busy week of tennis, juniors from Dublin, Dundalk, Donegal, Belfast and all the local clubs in Fermanagh and Tyrone descended on Enniskillen Tennis Club for the annual West of Ulster Junior Championships. As expected, local players acquitted themselves very well and provided the spectators with some outstanding tennis.
The U18 and U16 Boys Singles were dominated by the number one and two seeds, Kyran Maguire and Ryan Irvine of Irvinestown. Nobody has made greater improvement in the past year than Ryan, but in Kyran he met a particularly tough opponent who was on top of his game. On this occasion it was Kyran who came through in both finals.
The most competitive event of the tournament was undoubtedly the U18 Girls Singles. All five girls played to a very high standard. Local players Hannah Cousins, Laura Griffin and Eimear Smyth took on the challenge of Arianna Kennedy from Belfast and Klara Hjalmers from Dundalk. It came down to the last match of the round robin where Eimear and Laura were due to meet with both girls having won their previous three matches. Eimear's pinpoint accuracy and excellent groundstrokes deep to the baseline put Laura under pressure from the start and the Derrygonnelly girl ran out a deserved winner in straight sets.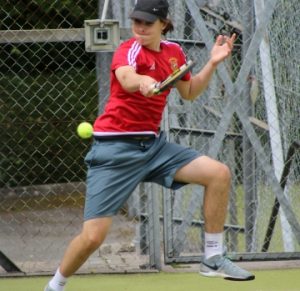 The U16 Girls Singles saw Amy Griffin overcome Anna McGreal from Dublin in a marathon three setter. Having seen the Dublin girl dominate the first set, Amy fought her way back to take the second set 6-3, before taking the third set tiebreak 10-6. It was great to see Sasha Funston return to tennis competition, and she emerged with a narrow three set win over Ciara Griffin. The final however was between Enniskillen's Eimear Smyth and Klara Hjalmers. In a match full of quality tennis, Eimear dominated the first set 6-1 but had to draw on all her experience to clinch the second set 7-6.
Aran Dillon and Oliver Guette enjoyed a narrow win over Donegal's Alexandros Stergiopoulos and Charles Rodriguez. However, in the final, they were just edged out by another Donegal pairing of George Blaney and Bernard McGettigan.
The U14 Boys Singles saw Luke Dillon with an early win against Charles Rodriguez 6-2 6-3. The big surprise of this draw was City of Derry's Michael Hatrick who knocked out the number one seed Alexandros Stergiopoulos in a 3 setter. Michael then went on to beat the number two seed Ciaran Daly in the final. The U14 Girls Singles went to Dundalk's Annamai Mullen who justified her top seeding and beat Dublin's Anna McGreal in the final. There were good performances in this event from Hannah Davis, Anna Guette and Ciara and Amy Griffin.
Local boy, Marcus Davis enjoyed two good wins in the U12 Boys Singles. But it was the match between Andrew Hatrick and Irvinestown's Fionnbarr Taggart which decided the outcome with the former winning 7-6 6-1.
The U12 Girls Singles had two of Enniskillen's youngest competitors Eve Callaghan and Bronagh Smyth taking part. Both emerged with great credit and will undoubtedly feature prominently in tennis tournaments in years to come. The impressive Anna Gillespie from Bangor emerged the comfortable winner over Amber Young from Downshire.
The Novice Boys Singles saw some encouraging performances from local players Andrew Hyde, Michael McDonald and Ciaran Dillon. But it was Irvinestown's duo Jonathan Irvine and Cormac Taggart who fought out the final with Cormac edging it 7-5 6-3.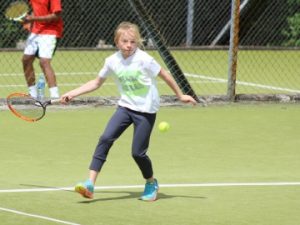 Marcus Davis and Michael McDonald enjoyed a good win over Andrew Hyde and Ciaran Dillon in the Novice Boys Doubles. But it was Jonathan Irvine and Emmett McGuinness who combined to clinch the overall win by beating Marcus and Emmett 7-5 6-2 in a tightly fought match.
The presentation took place in the clubhouse and a warm tribute was paid to Innes Redmond of Lakeland Veterinary Services, Derrygonnelly who once again provided sponsorship for the event. This has traditionally been a key event in the junior calendar and has once again succeeded in bringing junior players and their families from around the country to the Fermanagh Lakelands. A welcoming and fun atmosphere was created all week by the provision of daily home baked produce with a cooked barbecue available on the final two days of the tournament.