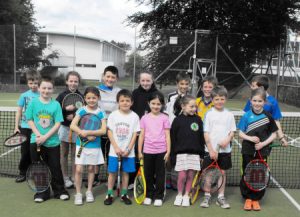 Last weekend saw many of our youngest juniors taking part in a Tens event at Enniskillen Tennis Club. The juniors ranged from seven to nine years of age. Most have been taking part in the Friday night club activities with some gaining further experience at squad coaching sessions during the year from coach Louise McGann. Whilst the emphasis was very much on having fun the purpose of this event was to introduce the youngsters to competition in its mildest form.
Catching the eye was Rory Smyth, who shows great promise for his young age. Also sister Bronagh who always puts in a good all round performance. Aoibheann King and Kayla Noble enjoyed a very close game but it was Jack Balfour who proved himself to be one the quickest around the court.
John Cathcart returning from injury played with great enthusiasm and energy. Caoilte Hamill and Ciara Griffin enjoyed a game of long rallies with Caoilte just coming out ahead.
The children played in teams and nobody went home empty handed!