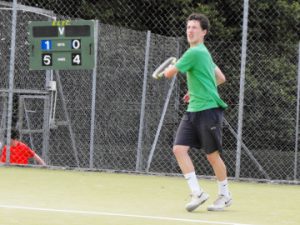 Enniskillen club for the West Of Ulster Junior Tennis Championships, one of the largest junior tournaments in the west. This year it was sponsored for the first time by the local Enniskillen ASDA Branch. With participants from Donegal, Sligo, Mayo, Leitrim and Belfast, Ballymena, Banbridge and many clubs in-between, it proved a highly enjoyable experience for all who took part and their parents, many of whom stayed in Fermanagh for the entire week. ……Full Results.
The U18 Boys Singles saw Jared Monaghan come through his semi-final against Paul Bannigan (Butt Hall) 6-3 6-4 in a quality match full of hard hitting baseline rallies. Both showed exceptional speed around the court, but it was Jared's pinpoint accuracy that proved to be the decisive factor. Matthew Duffy contested the final against Jared and although Matthew showed great touches around the court, Jared ran out the worthy winner 6-1 6-4. It was a memorable day for Jared who doubled up with a fine win over Ronan McKeever in the U16 Boys Singles. Certainly Ronan ensured Jared did not have matters all his own way with some exquisite shot making which levelled the match at one set all. But Jared proved just too strong in the deciding set and took it in decisive fashion 6-1. Jared managed to complete the triple taking the U18 Boys Doubles with Ronan against Paul Bannigan and Matthew Duffy 7-5 6-4 in the final match of the tournament and one that was appreciated by the large gathering.
The U16 Girls Singles proved to be a high quality affair between Sarah Cousins and Laura Griffin. Both girls are continuing to show improvement under the watchful eye of coach Matthew McGann. Sarah took a very competitive first set 7-5 with some outstanding play from both girls and proved too strong in the second taking it decisively 6-3. Sarah doubled up with another victory at Laura's expense in the U18 Singles and this proved to be one of the matches of the tournament. A key feature of this match was the highly accurate and lengthy baseline rallies. Sarah took the first set 6-3, Laura levelled the match clinching the tie break 7-6, before Sarah decisively took the final set. Like Jared, Sarah achieved the triple by taking the girl's doubles with Eimear Smyth. Although they were match point down against Laura and Alison Glass, they fought back doggedly to clinch the second set 7-5 thereby levelling the match at one set all. With both encouraging each other on, they started in terrific fashion in the championship tiebreak eventually taking the match 10-4. One other match in this event which caused the spectators to be at the edge of their seats was Alison and Laura versus Hannah Cousins and Emily Donaldson. Again three sets were needed and Alison and Laura just scraped home 6-2 2-6 13-11.
The U14 Boys Singles saw Conan Whitley come through the semi-final edging out Bernard McGettigan (Letterkenny- Butt Hall). The final saw him take on fellow Irvinestown club-mate and adversary, Kyran Maguire. With both boys playing as though their lives depended on it, Kyran appeared to be heading for a smooth victory when taking the first set 6-2. But Kyran needed no reminder of Conan's battling qualities and with Conan following the script to a tee, he took the second 6-4 before Kyran dug deeper again to cause the momentum to swing his way in the third.
The U14 Mixed Doubles was won decisively by Sligo's Niall Butler and Sue Smith from Conor Rippey and Sasha Funston. Eimear Smyth (Enniskillen) justified her number one seeding in the U14 Girls Singles taking a closely fought final 7-6 6-3 against Sue Smith.
Kyran Maguire and Conan Whitley, formed a formidable combination in the U16 Boys Doubles and they won both their matches decisively. The runner spot hinged on the outcome of the match between Ryan Irvine and Eoin Meade (Irvinestown) and Enniskillen's Dylan Funston and Fergal Quinn. In a cliff-hanger, this match went into a third set and although Dylan and Fergal fought tenaciously, they could not peg back the Irvinestown duo who took the championship tie break 10-4.
The U12 Boys Singles saw Fergal Quinn take on Conor Walsh (Sligo) in the semi-final. Although Fergal displayed a wide range of shot making skills, he found it difficult to match Conor's consistency. The Sligoman deservedly won the final against Jonah Lennox (ATT) who only just edged out Irvinestown's Ciaran Daly 6-4 7-6 in the semi- final.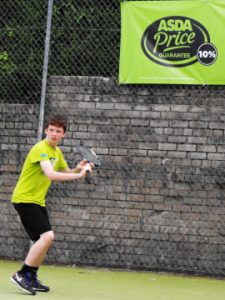 Lily McKane (David Lloyd) proved exceptionally strong in the U12 Girl's Singles taking it in decisive fashion from the up and coming Louiza Moran from Sligo.
In the junior boys novice singles, Alexandros Stergiopoulos (Donegal) remained unbeaten in his three matches and pipped Jay Maguire of Irvinstown for top spot. The clincher for Alexandros was a 6-4 7-5 win over local boy Jack Balfour, who has made significant progress over the past year.
The Senior Boys Novice Singles saw Stuart Armstrong from Banbridge edging out Lisburn's Kyle Carson to clinch a place in the final. Here he met Enniskillen's Conor Rippey who had come through his section undefeated. In the final, long baseline rallies were the order of the day and the extra experience shown by Stuart was sufficient to see him claim a deserved win.
The Novice Girls Singles saw Louiza Moran and Katie McManus (Manorhamilton) do battle in a match full of twists and turns. A highly competitive first set saw Katie taking the lead in a 7-6 tiebreak. The second set proved just as tight with Katie taking it and the match 7-5. Tara McConville had a great match against Louiza and although Tara lost 4-6 6-7, she can many positives from her performance.
The Novice Boys Doubles was deservedly won by Irvinestown's Jarlath and Jay Maguire at the expense of Enniskillen duo Eoin Donnelly and James O'Doherty, who nonetheless should be well satisfied their performance which was good enough to claim runner-up spot.
Other performances of note came from Megan Elliot who squeezed out Hannah Davis in the U12 consolation before going on to beat Ciara Griffin. Niall Butler was just too strong for Conor Rippey taking the U14 Boys Singles Consolation final 9-7. Sasha Funston and Dearbhla Dillon could only be separated by a couple of points with Sasha taking the U14 Girls Singles consolation 9-8.
At the well supported presentation, the tournament organisers paid tribute to the support of ASDA for their generous sponsorship. Their representative, Simon Harron presented the prizes and stated that ASDA were delighted to be associated with this popular event which continues to attract young competitors from the locality as well from much further afield.